little place boutique
124 Bent Street, Suite H
Taos, New Mexico
575-758-0440
Hours:
Tuesday – Saturday
11:00 p.m. – 5:30 p.m.
Sunday – Monday
12 p.m. – 5 p.m.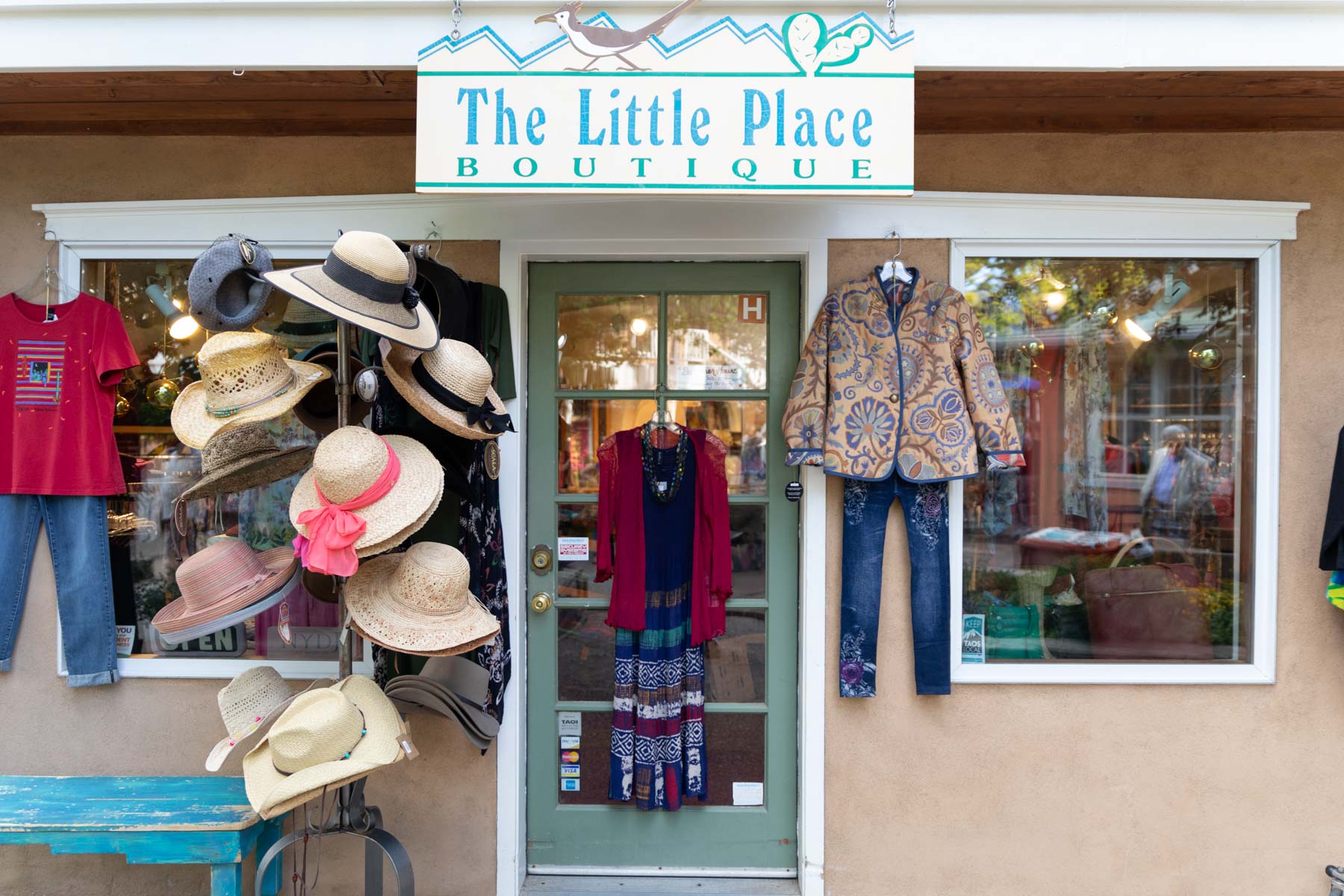 Beautiful women's clothing & accessories
The Little Place Boutique in the John Dunn Shops is among Taos' most unique, colorful, and friendly stores, featuring comfort driven women's clothing and accessories with an emphasis on natural fibers and products made in the USA and Canada. Enjoy a unique shopping experience that's locally owned, run by women for women.
Our taos story
Owner Rita Jennerjahn came from San Francisco to Taos to manage another local family business. In short order, Rita found herself to be the sole proprietor of a beautiful boutique of her own. Well established, The Little Place Boutique has brought fair trade women's wear, resort clothing, jewelry, and accessories to the women of Taos, locals and visitors alike.
Showcasing brands like Tianello, Jams World, Sabaku, Shannon Passero, Sacred Threads, Not Your Daughter's Jeans, Winding River, Dolcezza, Lisette, Aran Knitwear, Prairie Cotton, Sno Skins, Cactus Bay, Lost River, Red's Threads, Parkhurst, and Brighton Accessories, most items are made of natural fibers and largely hail from the USA or Canada. You will also find a bevy of silk, wool and other natural materials, some from places such as Bali, Nepal, Turkey, or Ireland. If it's not North American, it's almost always fair trade. The majority of all-natural fiber products available at The Little Place Boutique are preshrunk and can be machine washed (in many cases, even machine dried!), making so many of these items wonderfully easy to maintain.
Since 1994, The Little Place Boutique has demonstrated a dedication to the local Taos economy by carrying as many products made by local artists as possible. Bringing distinctive and creative clothing, jewelry, scarves, belts, purses, jackets and coats to market in Taos' local economy has proven rewarding in the era of big-box stores and internet warehouses. That's why Rita focuses so much on The Little Place Boutique's most standout trait: exceptional customer service. Rita will go above and beyond to help you find your perfect cottage industry gift, natural fiber blouse, or hand-loomed merino wool sweater. If exactly what you're looking for is not in stock, she's only too happy to accommodate special order requests. At The Little Place Boutique, you'll find colorful, one-of-a-kind products paired with kind and compassionate customer service for a shopping experience you'll want to repeat again and again.
A little shop with BIG personality… It's fun, it's unique, it's the Little Place Boutique!