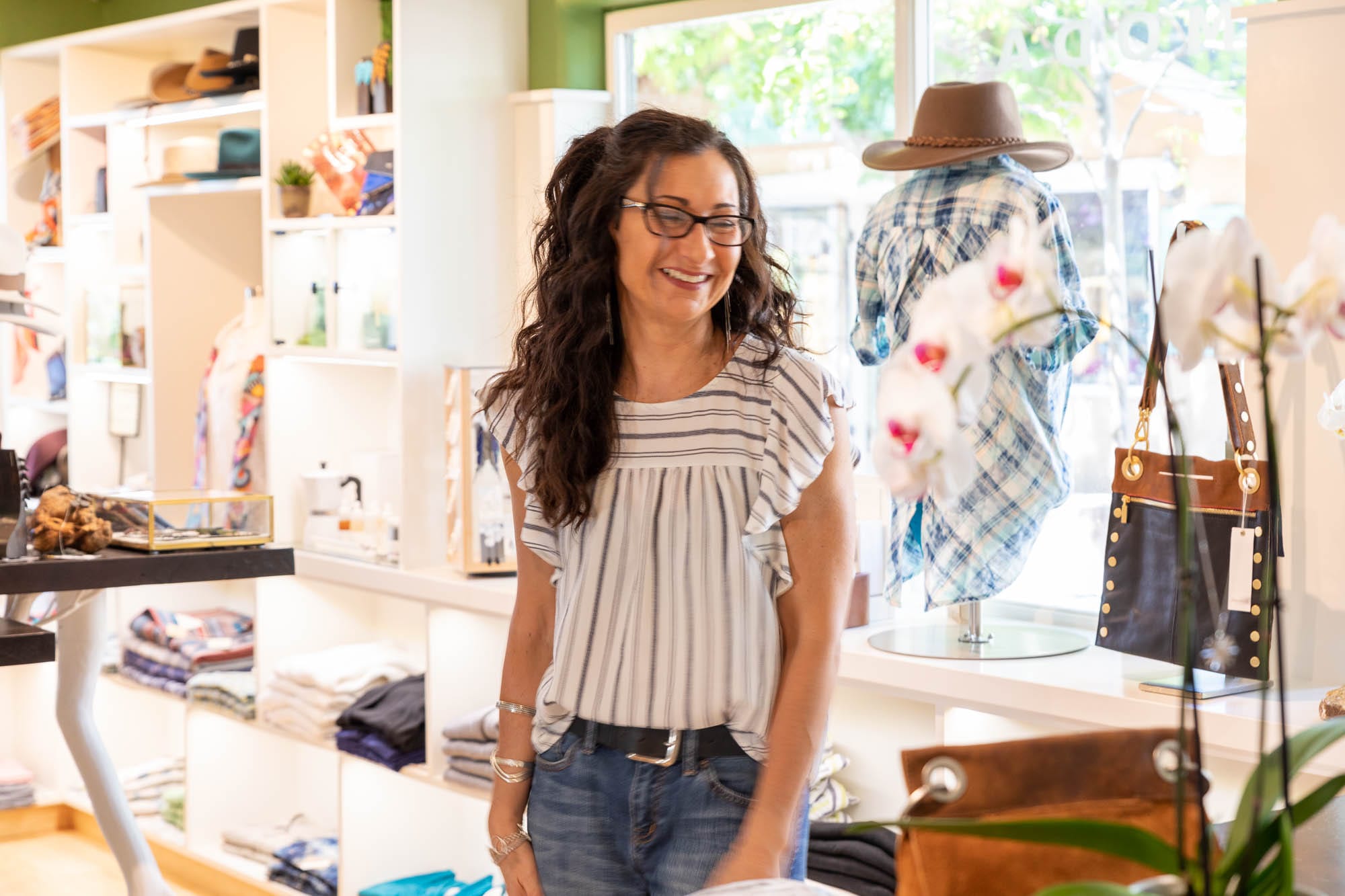 Women's Clothing, jewelry & accessories
As the newest addition to John Dunn Shops, MODA is the sister boutique to Clarke & Co. Menswear. This is our answer to the question we've heard for years from the women of our men's store customers, "Where can I find women's clothing comparable to Clarke & Co?" Now we're able to answer the question: "Right next door, at MODA!"
Our taos story
MODA is your newest must-stop shopping destination, whether you live in Taos or are just visiting. The word MODA refers to Fashion in many languages, and we have embraced that meaning with the clothes and accessories in our boutique. With a bright and stylish atmosphere that combines the fresh, clean feeling of the outdoors with the cosmopolitan tastes of the city, MODA is committed to offering our customers curated items that are handpicked specifically for the shop, with the lasting quality one deserves. Our goods are designed for a wide age range, and all women are welcome in our space.
We have been fortunate to carry many of the same quality brands you will find at Clarke & Co., as they offer complimentary women's collections. This is just what our customers have been asking us for over the years! Lines include Tori Richard dresses and tops; Mountain Khakis flannels, fleece, light cotton tops, and everything cozy; Dylan from True Grit exceptional faux fur; Bailey Hats made of straw and wool, packable and water resistant, to name a few. In addition, we have brought in new brands not found in other Taos boutiques that we know you'll love. Some of our favorites: dRA, comfortable, confident clothing with a sophisticated twist on BOHO style that is easy to wear; BB Dakota and JACK, feminine clothes made for all-occasions, from casual to fancy, work to play; and elegant sweaters from Kinross Cashmere. We also carry silk, jersey, wool, and Cashmink scarves, ponchos, and ruanas from V.Fraas; Hammitt Bags made in LA; innovative SECRID wallets from Holland; and Angela Mara's sophisticated Italian knits and linen. You can also shop for jewelry, fragrances, teas, yoga mats, and other gifts and housewares made locally or sourced from around in the US.
MODA has the privilege to be the only Taos boutique offering Pendleton for women. Come in to find classic wool coats, tops, and sweaters with patented Pendleton designs and fabric.
Shopping at our brick-and-mortar boutique offers the benefits of our exceptional customer support and service. We welcome you into a no-pressure environment to browse, shop, and ask questions of our staff in an easy and accepting atmosphere.
At MODA, we ensure your shopping experience is a fun and positive one. You'll want you to come back time and time again. MODA…it's Fashion!