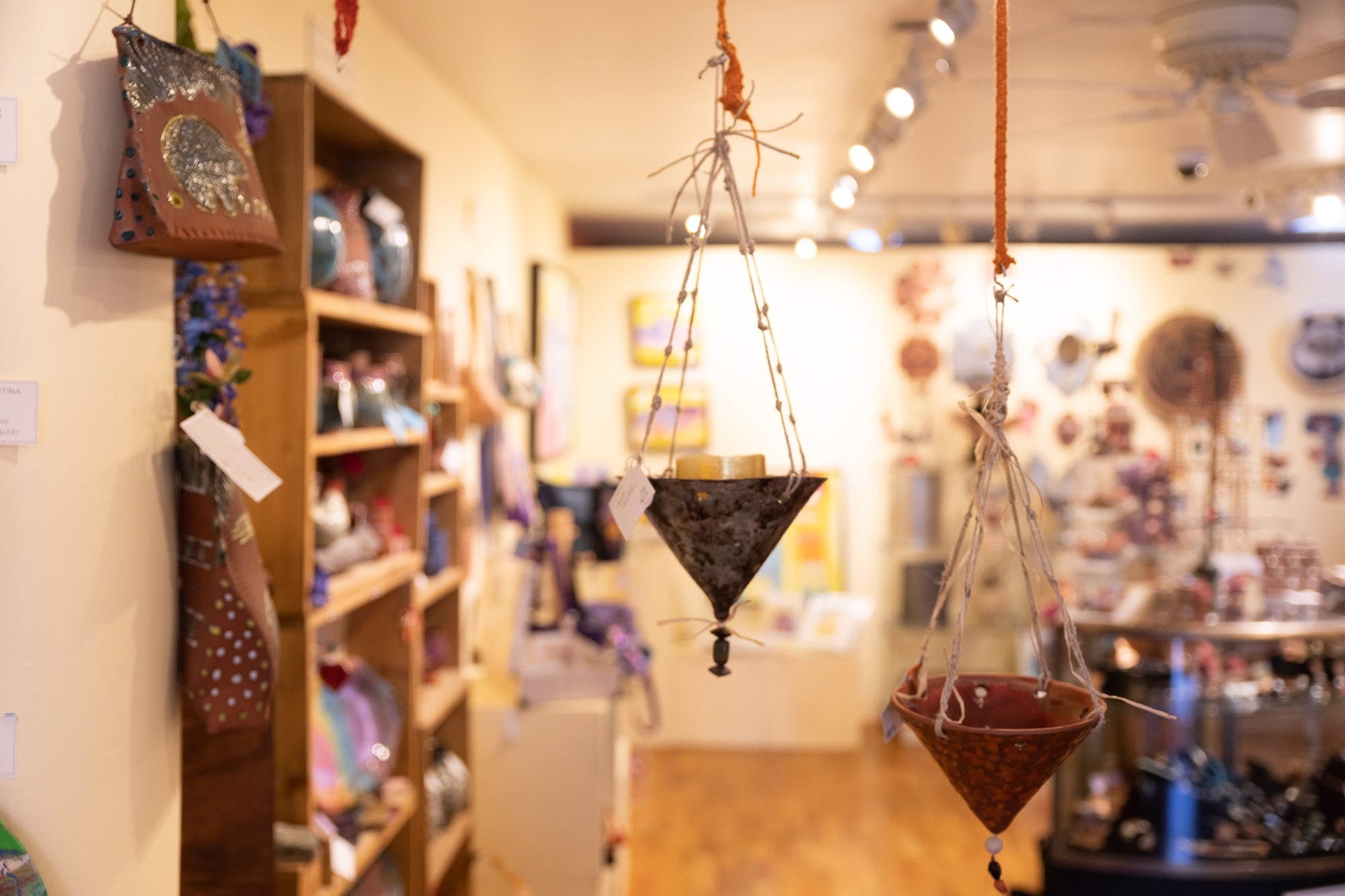 Locally made, jewelry, art, pottery
Taos' only all-woman cooperative gallery. Our 10 artists offer an eclectic collection, including mandalas, cards, jewelry, watercolors, story tellers, ornaments, pottery, art mirrors, handbags, tin work, hand-made drums, and beeswax candles.
Our taos story
In 1997, in a small gallery in Arroyo Seco a group of talented women artists from Northern New Mexico, who believed in the strength of women as a co-operative creative group, began what would become Las Comadres Gallery. They pooled their resources and their talents, and Las Comadres Gallery is now located at the gateway to the John Dunn Shops.
Today we are ten women working together to offer a beautiful range of handcrafted treasures in a relaxed setting for a unique shopping experience. Our inventory changes often and always includes affordable gifts, decorations, and personal indulgences.
Each time you visit you will likely meet a new artist, as each artist works a schedule of rotating days and shares management responsibilities. We hope your stay is a pleasant one.
Currently exhibiting in our eclectic space are:
Karen Hamilton, Jewelry Artist
Karen fabricates her jewelry designs using 20th Century industrial machinery in her Taos studio. Jewelry has been her passion for 30 years. Karen also brings color to her work with a line of polymer clay earrings, bracelets, and accessories.
Mari "Mud" Hawkes, Ceramic artist
Mari "Mud" studied pottery at the Art Studio in Wilmington, DE. Her work fills our gallery with "Taos Color."
Janice M. Smith, Mixed Media Wall Art
Janice creates dimensional wall art from wood, ceramic clay, and metals. She uses color and texture to create artworks that inspire the imagination.
Frances Mascarenas, Polymer Clay Folk Art
Frances works in the polymer clay medium creating adorable, whimsical creations. Her collection includes Storyteller sculptures, figurines, ornaments and tableaus.
Karen McCurtain Blair, Watercolors
Karen is an artist based in Taos, New Mexico. Karen has exhibited in the U.S. and abroad. Found in private collections internationally, her work embodies our slogan, "Take Home some Taos Color."
Barbara Moncivais Sager, Mandala Art
Barbara creates beautiful and unique mandalas using a variety of mediums. She also creates a selection of delicate ribbon bookmarks trimmed with beads and charms and her note cards are widely popular.
Kim Pollis, Metalsmith
Kim makes traditional Tinas well as contemporary pieces. Her work is very detailed and meticulous. She offers a variety of useful and decorative pieces.
Robin Cunningham, BeeLuminous Taos Candles
Robin handcrafts pure, locally sourced beeswax candles. She also offers local beeswax, handmade papers for embellishing pillars, and local sources for many of her candle molds.
Mary Alvarado, Art Mirrors
Mary creates in many mediums, including drawing and painting. She sculpts fabric frames, makes Art Mirrors, and offers photo note cards and eco-dyed cards.
Pam Oestreicher, Fiber Art, Purses, Bags, and Wallets
Pam offers a variety of locally made handbags. Her line includes purses, wallets, dog walking bags, and more.