La Tierra Mineral Gallery
La Tierra Mineral Gallery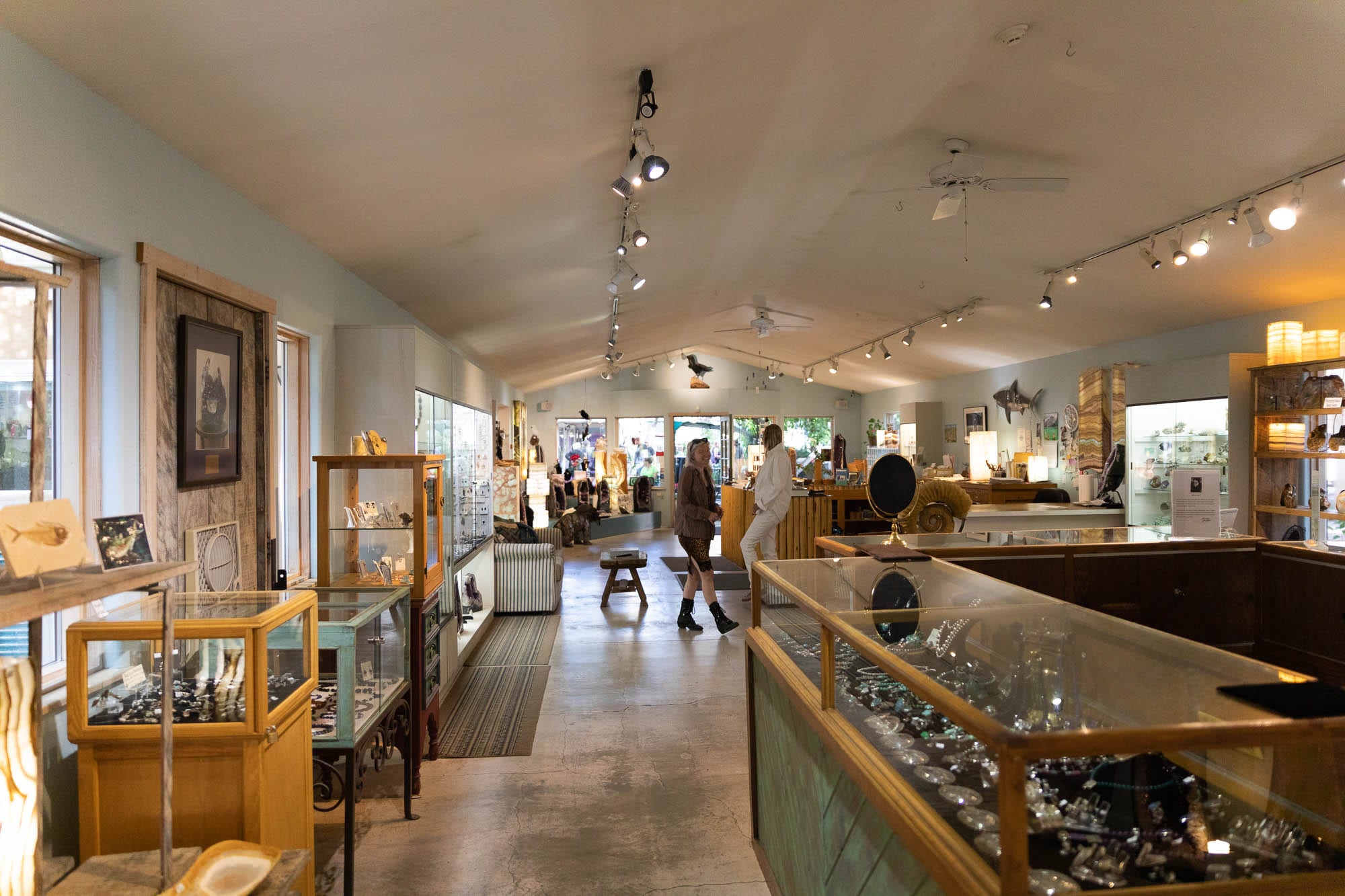 minerals, fossils, jewelry, home decor
Your Taos source for one-of-a-kind natural treasures. Discover the beauty and history of art created by nature. Minerals, fossils, jewelry, and home decor — from earth's remotest regions to you!
Our taos story
La Tierra Mineral Gallery offers a large selection of minerals, fossils, hand-made stone home accessories, and local handmade jewelry.
Owned for over 20 years by geologist-turned-management consultant Holly Benson, the gallery is managed by native Taoseño and silversmith Leo Weaver, who combines his knowledge of minerals, fossils, and jewelry to acquire and present a portfolio of one-of-a-kind treasures. Sales associates Lauren Hesheisher, Marianne Hersheisher, Marge Schubring, and Nancy Stapp help customers find just the right piece for their collection or a perfect souvenir to bring home from Taos.
Our mission is to create a beautiful space in which people of all ages can come to appreciate the incredible beauty and history that is the mineral kingdom and the planet we live on. In our fun, relaxed, and educational environment, we offer hundreds of minerals and fossil specimens from around the world, including a large collection from Taos county and southern New Mexico. We also have a wonderful section of plates, bowls, bookends, lamps, candleholders, and sculptures of animals, all made of natural stone. La Tierra Mineral Gallery is proud to represent the following local Taos and regional artists and prospectors:
JEWELRY: Mercedes Montoya, Seth Brown, Lorelie Brown Loveless, Leo Weaver, Judith and Gino Shiavone, John Sheffield, Marianne Hersheisher, Marge Schubring, Lauren Hersheisher, Greg Smith, Michael Silberhorn, Jaqueline Gala, Jenny Inge, Vera Tenorio, Lea Ann Edwards
LOCAL MINERALS: Fred Ortega-Lauren Hersheisher, The Graves Family
POTTERY: Mercedes Montoya, Raul Torres
SAGE DOLLS: Barry Azbe
DREAM CATCHERS: Double Eagle
ZUNI FETISHES: Various artists from the Zuni Reservation