Clarke & Co. Menswear
120 Bent Street, Suite E
Taos, New Mexico
575-758-2696
Hours:
Tuesday – Saturday
10:30 a.m. – 5:30 pm. 
Sunday
11 a.m. – 5 p.m.
kristin@clarkeandco.shop
Instagram: @clarkeclothingtaos
During Covid-19 restrictions, Clarke & Co. is offering virtual shopping appointments via FaceTime, using Instagram Messaging and texts to schedule as well as window shopping. Contact by phone for more information or for updates on their shopping hours and options.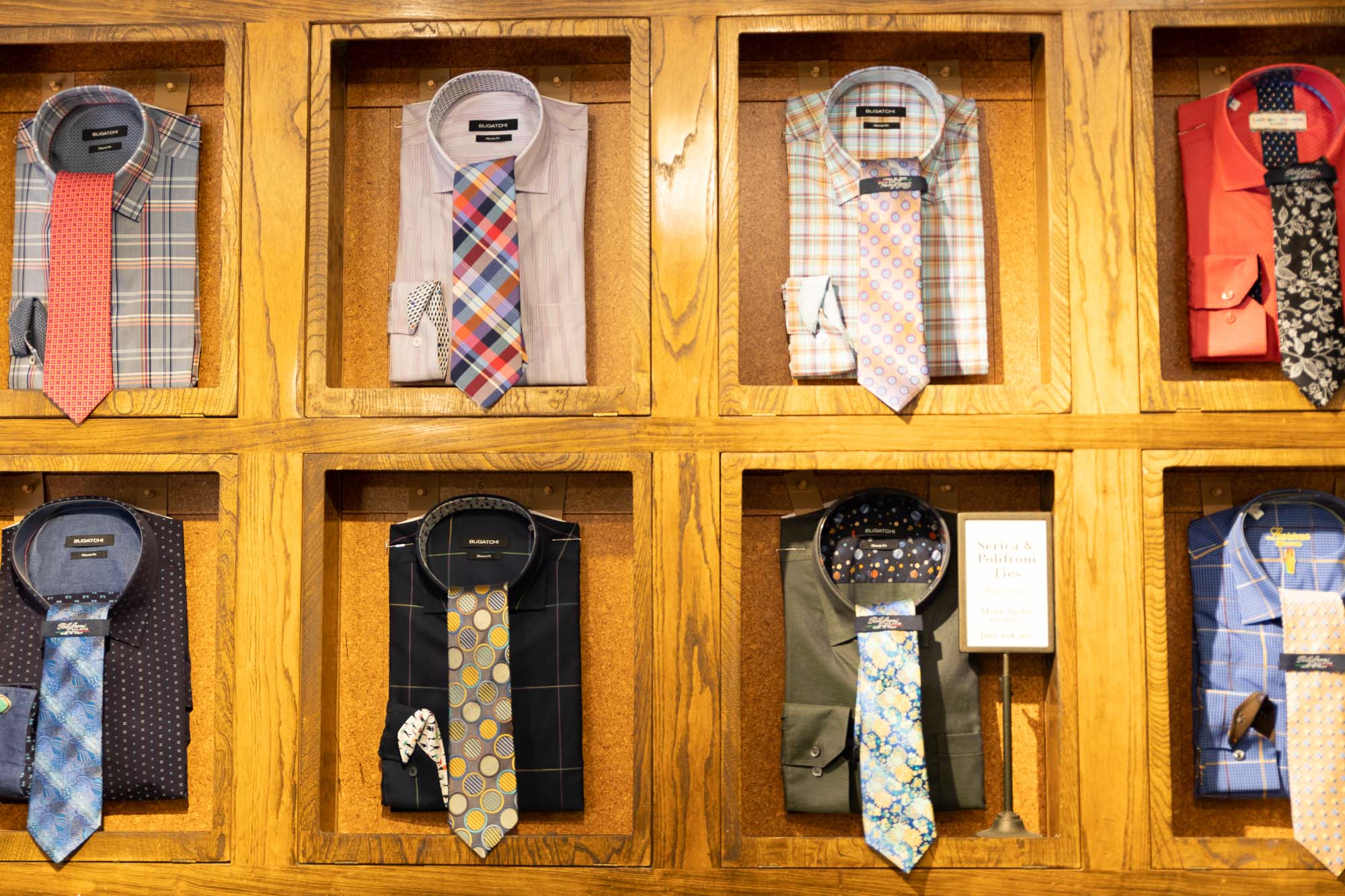 men's clothing & accessories
Clarke & Co. is a locally owned, independent finer men's clothing boutique providing unique apparel and accessories to those who desire and deserve the best in clothing and customer service.
Our taos story
Clarke & Co. is a locally owned and operated independent men's clothing store located in downtown historic Taos. Established in 1987, we are committed to providing carefully curated men's apparel and accessories to customers who desire and deserve the finest in quality and customer service. As a reflection of this commitment, we have been voted "BEST of TAOS" in the men's clothing category by customers and community. Whether locals or visitors, we offer our customers a fresh new look toward men's fashion. A man can dress casually and still look like a million bucks!
We understand that shopping can be an overwhelming – or underwhelming – experience. We get it and are here to help! One step into the shop and you can see the difference. Here at Clarke & Co., you will benefit from a boutique-style shopping experience that focuses on aesthetics, quality products, and exceptional customer service. As a specialized retail shop, we offer hand-picked items of the highest quality unique to our store. We provide clothing and accessories reflecting the current fashion trends, traditional sportswear furnishings, and casual soft goods and knits that are perfect for the Taos mountain lifestyle.
Our customers have always appreciated the no-pressure environment and easy-to-shop atmosphere we've provided over the years. Our welcoming staff are informed and ready to assist you, to make you feel comfortable and confident about your purchases. We also offer personal shopper experiences. Try our one-on-one uninterrupted assistance with a scheduled appointment!
We have been fortunate to establish long term relationships with many of the brands we carry in the store, including: Bugatchi Uomo, with their well-constructed cotton sport shirts with classic patterns and colorful designs; True Grit, offering casual luxury clothing in the softest fabrics, like pima cotton polos and tees, plush fleece pull-overs, and western styles cord shirts; Marcello and Luchiano Visconti sport shirts, presenting wearable art, with extra special button treatments and stitch details; Viyella, a true heritage brand with sophisticated pima/merino blend shirts in timeless tartans and plaids; Tori Richard and Kahala, true Aloha shirts made in the Aloha state; and Mountain Khakis, our premier outdoor apparel outfitter, offering premium and durable clothing for all of your adventures. In addition, Clarke & Co. Menswear carries high quality accessories to complete your new look. Check out our Italian leather and bison belts, leather bags, Bailey Hats, flasks, cologne, and more. Clarke & Co. Expect More!