Ammann Gallery
120 Bent Street, Suite L
Taos, New Mexico
575-758-7450
Open every day, 10:00 am-6:00 pm
website: ammanngallery.com
Instagram: @AmmanGallery
During Covid-19 restrictions per New Mexico Public Health Order, Ammann is closed for in person visiting, but phone sales are avaiable.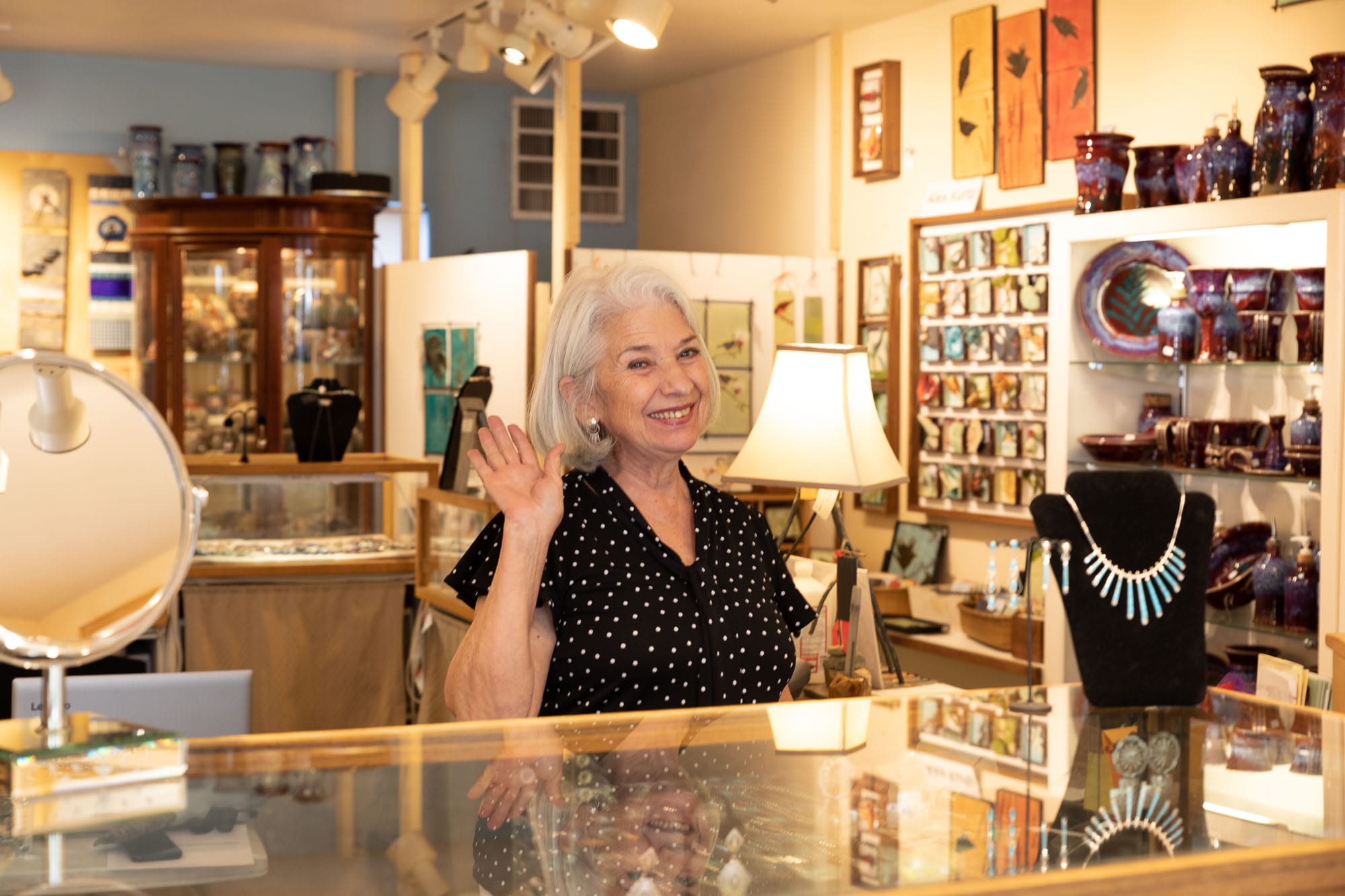 locally made jewery, arts, and crafts
 
Ammann Gallery features the art and craft of local member artists along with a wonderful selection of Native American jewelry and pottery. Stop in for an authentic Taos experience.
Our taos story
Susan Ammann: "After working as a potter for over 25 years, in 2003 I began to envision opening a new gallery to showcase my pottery as well as the work of some of the best local artists and craftsmen known to me. Ammann Gallery came into existence in a lovely new building in an unfortunately out of the way location so in early in 2009 we moved into our current wonderful space in the John Dunn Shops. Since that time, there have been some changes and several new artists have been added. Currently we are seven member artists who share the daily responsibilities of running the gallery. Slower times may find any one of us working on a current project at our in-store work table. We also feature a well-chosen collection of Native American jewelry and pottery and several other regional artists on a rotating basis. We are open 7 days a week and always enjoy our visitors whether shopping or just browsing so please stop by and meet your local artists."
Diane Harris: "Art is my second career and has led me to Taos as the environment here encourages creativity and expression. I work in fused glass and raku pottery as they are the materials that challenge both my creative and analytic sides. I hope you can come visit Ammann Gallery on your next visit to Taos to enjoy my work." – Diane Harris
Shirley Eckert: " I wake up in the morning, open my door and step out into sunshine. I grew up in the country. It's where I am at home and Taos is that place for me. Country, community, birds, animals, landscapes of mountains, farmlands and the mesa are the reasons I live here. There is always something going on in my mind that needs to be in a painting of what I see in Taos New Mexico."
Sandra Miller: "Art meets function at the Sandra Miller Studio. My mixed media pieces combine natural and upcycled materials in sculptural clocks, frames, bookmarks, magnets and a rustic line of jewelry. My style is called "Zen Southwest" and uses my extensive background in fine art to create one of a kind works."
Reina: "Piñon-dotted mesas, deep canyons, towering thunderheads and brilliant yellows of autumn are my inspiration! I sit at a favorite place, notice how it feels, then I begin to create my landscape with color pencil and paper. My compositions are strong, intensely colorful, quietly dramatic, cutting the edge between reality and fantasy."
Alex Kurtz: "I make one of a kind, ceramic tiles. Each tile is unique, hand-made and fired with solar power in my Taos mesa studio. The subject matter I focus on is mainly local flora, birds and bugs with the occasional exotic subject matter thrown in. Many of my tiles are highly sculptural and made to hang on the wall. All of my tiles are kiln fired multiple times to almost 2000 degrees and all finished surfaces are fired ceramic glazes."
Edna Sturtcman: "Whether it is polymer clay or preserved flowers, I feel joy when I work in these mediums. I am self-taught and have learned so much over the years. My parents were both fine artist who moved to Taos in the early 50's. They instilled a love of art in my siblings and myself. The more color I use the better I like it. There are no boundaries just too many ideas to ever create all I would like."